Your baby spits up occasionally after a feeding. Or sometimes, this suddenly happens hours after a feeding. Either way, you worry somewhat because you want to make sure your baby is getting all of the proper nutrition that she needs.
So you wonder about the causes behind your baby spitting up clear liquid. Is this normal? Should you have to worry about inadequate weight gain?
In this article, we'll look at what causes this regurgitation, how to deal with it, and when to contact your doctor if it gets to be problematic.
What causes spitting up?
Basically, the baby's physical developmental process is what's behind baby spitting up clear liquid. In between the bottom of the esophagus and the top of the stomach, lies a muscle. This sphincter muscle keeps food from coming back up (sour​​ce). However, in the case of a young baby, this muscle still has to mature.
So a combination of a tiny stomach that holds limited amounts of food and a muscle that is still developing causes formula or breast milk to go into reverse. As a baby grows, the muscle "learns" how to perform its rightful task of keeping food where it belongs, in the stomach.
What's the difference between throwing up and spitting up?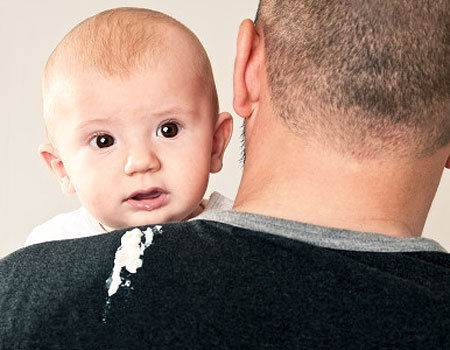 Via newkidscenter.com
This is a question that weighs heavily on new parents because a baby spitting up clear liquid can be mistaken for vomiting. There is a huge difference between the two, however.
When a baby spits up, the flow is clear for the most part. The action appears to be effortless. Moreover, the baby does not seem bothered by it at all. On the other hand, you would need to be concerned about vomiting if the following actions occur:
Another important factor to remember is that babies, in general, rarely vomit. This could be a sign of possible illness. Spitting up, however, is a lot more common. It happens to babies quite often especially in the first two months.
​When is it normal?
More often than not, your baby spitting up clear liquid is normal (source). When the liquid is clear, then it is saliva, but a translucent white can be formula or breast milk. In either case, this is nothing to be alarmed about. Your baby is still getting the proper nutrition that's needed. Plus, he or she will let you know when hunger kicks in.
As your baby gets older, the spitting up should decrease. That is due to the further development of the sphincter muscle at the end of the esophagus.
Can I prevent baby spitting up clear liquid?
There are ways to curtail, if not avoid the spitting up altogether. Here are some hints that you can try:
When should I call the doctor?
Most babies outgrow spitting up around 6 months of age. The spitting up should stop by the time they turn a year old.
Nonetheless, you might watch out for any of the following:
Any of these signs would warrant a trip to the doctor's office.
​What are the long-term effects?
Honestly, there aren't any lasting effects from normal spitting up. This does not affect weight gain or development. Often it's easy to mistake the quantity of the reflux due to the size of the stain, but your baby is not spitting up as much you might think. Therefore, he or she is not losing very many calories.
So as long as your baby is feeding on demand and soiling diapers on a consistent basis, then all will be well.
Conclusion
All in all, this reflux is normal, but keep in mind the following hints:
I hope you found this information helpful. If you have any hints or questions to share, please feel free to reach out.